10 Favorite Bible Verses For When Your Kid Is Afraid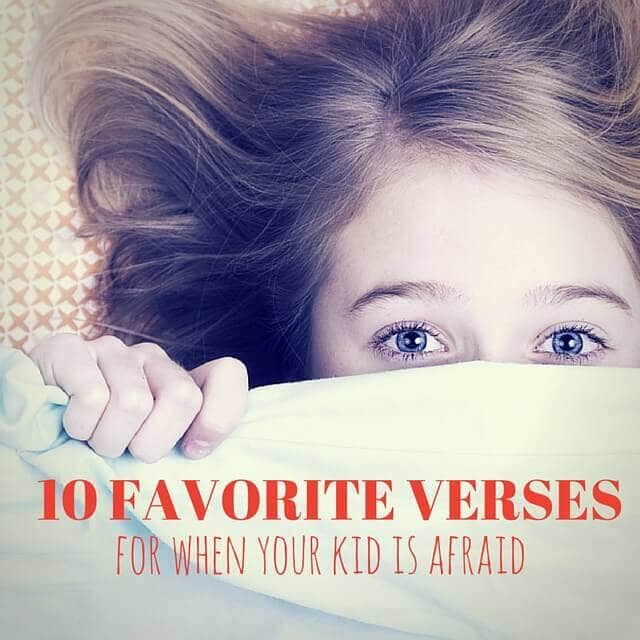 It doesn't take a spooky holiday full of plastic ghouls and scary movies to remind us that fear is a real (and regular) part of life. Perhaps this is why there are SO MANY Bible verses that speak about fear and offer comfort to us when we're afraid.
The following verses are great to keep on hand when you have a child (or--let's be honest--a grown-up) who is feeling anxious or afraid. Print, text, or email these verses and try reading and praying them together as a family.
10 Favorite Bible Verses For When Your Kid Is Afraid
[#1] "For the Lord says...do not be afraid, for I have ransomed you.  I have called you by name; you are mine." Isaiah 43:1

[#2] "So don't worry about tomorrow, for tomorrow will bring its own worries. Today's trouble is enough for today." Matthew 6:34

[#3] "This is my command—be strong and courageous! Do not be afraid or discouraged. For the Lord your God is with you wherever you go." Joshua 1:9

[#4] "Don't worry about anything; instead, pray about everything. Tell God what you need, and thank him for all he has done.  Then you will experience God's peace, which exceeds anything we can understand. His peace will guard your hearts and minds as you live in Christ Jesus." Philippians 4:6-7

[#5] "For God has not given us a spirit of fear and timidity, but of power, love, and self-discipline." 2 Timothy 1:7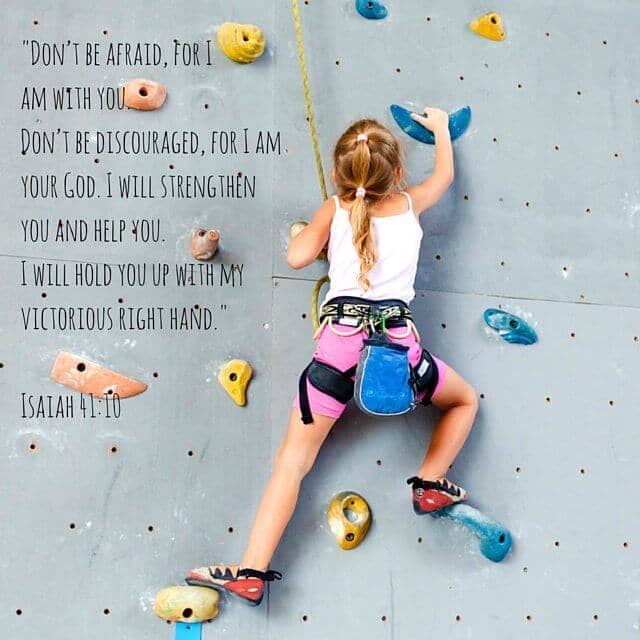 [#6] "Don't be afraid, for I am with you. Don't be discouraged, for I am your God. I will strengthen you and help you. I will hold you up with my victorious right hand." Isaiah 41:10

[#7] "Say to those with fearful hearts, 'Be strong, and do not fear, for your God is coming to destroy your enemies. He is coming to save you.'" Isaiah 35:4

[#8] "So humble yourselves under the mighty power of God, and at the right time he will lift you up in honor. Give all your worries and cares to God, for he cares about you." 1 Peter 5:6-7

[#9] "So be strong and courageous! Do not be afraid and do not panic before them. For the Lord your God will personally go ahead of you. He will neither fail you nor abandon you." Deuteronomy 31:6

[#10] "I prayed to the Lord, and he answered me. He freed me from all my fears." Psalm 34:4